Why West Gallery?
This joyful and robust music was sung in the West Galleries of English country churches. The term 'West Gallery Quire' was first mentioned by Thomas Hardy when writing about his father and grandfather who performed with the Mellstock Quire in 'Under the Greenwood Tree'.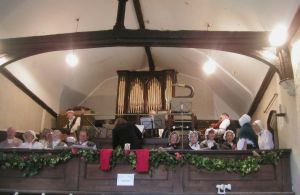 Singers were drawn from a wide area of their local communities. They provided music for the "hops" or local dances, and carols at Christmastide — a strictly non-religious activity in those days.
Many instruments were used in country quires including 'strings': violins and violas as well as clarinets, flutes and oboes. Whatever players could offer was usually acceptable. Sometimes local men would return from serving in the militia having learned to play an instrument, we find records of serpents, horns and bugles being played in the quires.
The music was mainly written for four voice parts: soprano, alto, tenor and bass, often with the tune sung by the tenors with the other voices singing the harmony. Later music tends to have the air or tune sung by the sopranos, as records show that gradually more boys and women became members of church quires.
Those quires who did not possess a local singing master or leader might use the services of one of the many itinerant musicians of the time. These men travelled widely in their regions, writing and teaching tunes which they judiciously named after the towns and villages they visited. They sold their music books and their tunes were copied into manuscripts used by the singers.
The Decline of West Gallery Music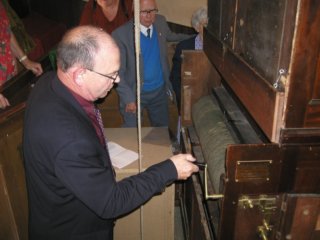 Records show that, although the singers and musicains were dedicated they were sometimes idiosyncratic and a certain amount of conflict existed between them and the church hierarchy. Complaints about the quires often mention "mangled words" and the refusal to sing any but their preferred tunes. Another frequent critism was the squeaking of the "clarionettes" .
This conflict eventually led to more formal congregational singing led by choirboys and an organ, as the clergy wrested power away from the old quires, destroying their galleries or sometimes filling them with new organs. Gradually the West Gallery Quires were heard no more.